Back to Blogs
Last week Ambition hosted our internal Wellbeing Week!
The aim of the event, which we hosted for the third year running, is to help our employees feel good, reduce stress and encourage them to pay closer attention to their health and wellbeing by making positive changes.
The week began with a healthy breakfast bar for all employees to enjoy and we continued to offer this daily. The first day's breakfast included fresh fruit from the local fruit market (there was an abundance of berries), wholemeal brown bread, free-range eggs, spinach and avocados – a great start to the week. Throughout the week a variety of healthy foods made an appearance, from Greek yogurt to smoked salmon. Breakfast is the most important meal of the day, after all, so we want to ensure our employees start their day right!
In keeping with this theme, each morning a daily bulletin went out to our employees providing them with advice and tips for a healthier lifestyle. Some of the themes that were addressed throughout the week included mental health, lifestyle, good reads, sleep and volunteering.
As well as daily bulletins, each day consisted of a different free activity.
Monday's wellbeing activity was a lunchtime meditation session in which employees were encouraged to let go of their personal stress and anxieties through mental visualisation. The session proved to be a great success with participants leaving with a sense of calmness and with a better understanding of how to deal with daily pressures. In addition to meditation, we also gave each team an office plant to communally care for. Plants have been proven to have a positive effect on people that work in offices as studies have shown they reduce stress and increase the air quality in a building.
Tuesday's activity was a chair yoga class, hosted by a professional yoga instructor. The aim of the session was to teach staff quick stretches that they could perform at their desk to avoid back pain. Some of the stretches that were preformed from a chair were 'neck rolls', 'the chair eagle', 'cow stretch' and the 'chair spinal twist'. "Just a few minutes of stretching every day can relieve stress and increase productivity. The class was very informative and inspired everyone to take more time to listen to their bodies.
On Wednesday, the team put on their football boots and got active in a friendly game of football after work. Although the game soon became very competitive (we are recruiters after all!) and it was questionable which team won, it didn't matter as everyone thoroughly enjoyed themselves whilst keeping fit.
By far the most popular activity of the week was Thursday's free neck, shoulder and back massages.
An office meeting room was transformed into an atmospheric relaxing space with flameless candles, ambience music and calming incense, allowing participants to completely forget about the outside world and enjoy a bit of relaxation. The massage concentrated on areas that are under strain from daily sitting at desks for long periods of time and where we carry a lot of tension/stress. Many employees commented that they instantly felt less tense and some people even vowed to make more time for themselves to fit in massages.
On Friday each person was gifted with an Ambition healthy cookbook, full of easy, cheap and healthy meal ideas for breakfast, lunch and dinner.
The week concluded with a team bonding activity of rounders in a local park. The weather was perfect for the game and spirits were raised as a result. Everyone in the office took part and enjoyed coming together and having fun after a successful week of work.
Wellbeing week proved to be a great success once again, and although it was only hosted for one week, we hope that it has inspired our employees to take positive steps towards good health, personal growth and wellbeing.
​
​
​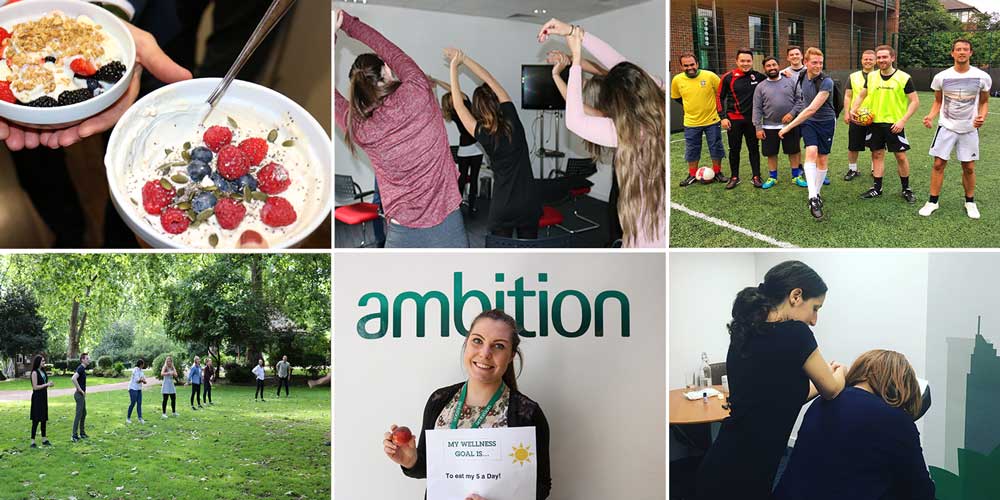 ​
​