Back to Blogs
At Ambition we are ​excited to be kicking off the year with some really fantastic news, this includes four well deserved internal promotions!
Matthew Gardner appointed as Managing Director - Legal
​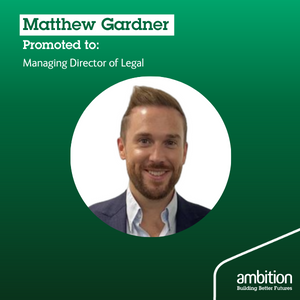 Firstly, we would like to share a big congratulations to Matthew Gardner, on being promoted to Managing Director - Legal!
Matthew has had a stellar career at Ambition, initially joining as a Trainee Recruitment Consultant straight from University!
Through his hard work, tenacity and commitment, he has developed high performing teams in both our Singapore office and the UK. He has been responsible for building and developing an incredibly successful, market leading Legal Finance & Accounting, Business Development & Marketing division and Practice & Consultancy BD&M division, with high calibre consultants that epitomise our 'inch wide, mile deep approach'.

A true professional, Matthew is a go to in the market for both candidates and clients and has helped to create a fantastic culture at Ambition, personifying our PRIDE values and in bringing to life our mantra of 'Building Better Futures'.
He has been instrumental in developing the careers of many consultants that have worked with him over the years and has been actively involved in launching Ambition US.
In his role as Managing Director, Matthew will continue to grow the Legal business both in the UK and Internationally, he will continue to work to make Ambition 'The Go To Professional Services Recruitment firm for our employees, candidates and clients'. Well done and well-deserved Matt!
​
Olivia Kelly promoted to Associate Director - Legal Finance & Accounting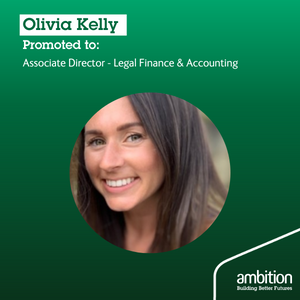 We have had the pleasure of working with Olivia for over a decade now and have witnessed first-hand the exceptional development and progression she has made in that time.

Olivia has consistently overachieved expectations throughout her career and has built a first class reputation for herself with her legal finance clients and candidates.

In more recent times, Olivia has been focussed on placing senior talent in legal finance and we are delighted to report Ambition has gone from strength to strength with Olivia assisting a record number of senior finance and accounting candidates to secure roles in Law firms in 2022.

As Associate Director, Olivia will be continuing to build out our senior legal finance business working closely with Managing Partners, COO's and CFO's on hiring senior talent across Legal finance (Financial Directors, Heads of Commercial & Pricing, Systems and Tax).

As part of that process, we will be looking at enhancing how we can continue to support current and future leaders in legal finance in developing their careers, underpinned by our dedicated Research and Talent Principal Consultant, Angelina Webb.

Huge congratulations Olivia! Looking forward to seeing you reach even greater heights through 2023!
​Ben Curle promoted to Associate Director - Ambition US
​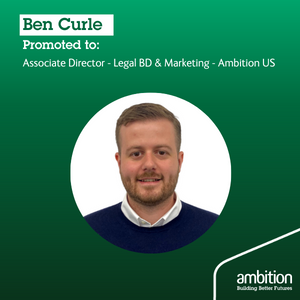 Congratulations to Ben Curle on his well-deserved promotion to Associate Director!!
Ben was set the joyous task of taking the reins of our Legal BD & Marketing team during the height of the pandemic and he hasn't looked back since.

He has steered the team to its most successful year in its existence in 2022, delivering particularly significant growth in senior level hiring in Legal BD&M and in international recruitment, most notably in the US and Europe.

As part of Ben's leadership, he has been instrumental in the training and development of his team which has resulted in a number of promotions across the Legal BD&M division.

Ben has also forged a fantastic reputation within his network for his excellent service levels and knowledge of the market.

Following the launch of the Ambition US entity, Ben has been tasked with leading the growth of our US Legal BD&M business. Ben has already supported a number of existing legal clients with hiring in New York and Washington and he will be looking to build on this through 2023.

As part of this, Ben will be growing a recruitment team dedicated to hiring in the US. More updates on our growth in the US in due course!

Congratulations Ben on your well-deserved promotion! I have no doubt our Legal BD&M business will continue to go from strength to strength as we grow across the UK, Europe and now the US.
​Julia Green promoted to Head of People & Culture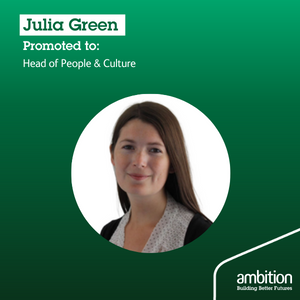 Julia started her career at Ambition as an Associate Consultant, rose through the consulting ranks and made the decision to move to the Corporate Services team where she started her CS career in a client services role.

Having decided that she wanted to pursue a career in HR, Julia gained her CIPD qualification and developed into the Ambition UK HR manager. Over the years, she has been instrumental in leading on all HR matters, has built our L&D function, is passionate about continuing to develop ED&I both internally at Ambition and externally with our candidates and clients, is the go-to for consultants and managers for queries and assists on a whole range of matters.
Jules is a trusted member of the senior leadership team and a voice of reason!
Julia's promotion to Head of People & Culture will see her continue to develop the experience for all at Ambition and to help move our ED&I agenda forward both internally and externally.

Congratulations on your well-deserved promotion, Julia!
​
It has been a wonderful start to the year at Ambition and we are sure to see many more promotions to come this year!
If you'd like to learn more about Life at Ambition, click here to visit our Work for us page.