Back to Blogs
Ambition recently hosted a BD and Marketing Directors' breakfast event, bringing together a group of over 20 talented business development professionals from real estate, accountancy and law firms.

We were delighted to be joined by Abigail Hunt, a business development and innovation consultant who facilitated the discussion. In the following blog, Abigail gives an overview of the event and the key points that were raised.
Dividing participants into small, multi-organisation groups, I asked everyone to set aside their respective firm, role and expert hats and take on a beginner's mindset – all things that can feel counter-intuitive.

Taking them through some fast, up on their feet and highly interactive challenges resulted in some impressive collaboration and valuable new thinking around client relationship management.
Empathy upfront
​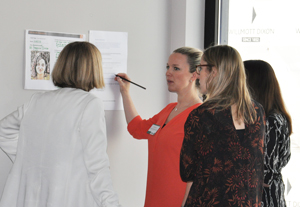 ​
The first task was for the groups to bring to life their own individual client by building a persona based on an internal or external client type, role and photograph. Starting by naming their persona, they worked on questions such as "What are your toughest challenges?" and "What do you need from professional service firms today? Over the next 4 years?"
Many people were surprised by how easily and quickly they were able to step in to the shoes of the persona and empathise with their drivers, unmet needs and concerns. Grounding the session in empathy for a range of clients created a client-centric environment and insights that enriched ideas and reduced the amount of assumptions later on.


A mental workout
​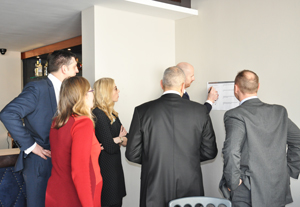 ​
Participants immersed themselves in a highly successful client relationship team scenario set 4 years in the future and worked out the steps they had taken to get there, what sort of hurdles they had overcome and how.
​

A reminder of the rules of better brainstorming was followed by each group generating a high volume of ideas at speed to find possible solutions to challenges such as "How might we hel
p people in our firm to keep client priorities upfront and at the centre of strategy planning and day to day activities?"
Significantly, the rules included a call for wild ideas - which could be scaled down later - rather than trying to come up with fully-formed and practical new solutions right away.
Without a shared process, the groups could not have come up with so many client-centric, innovative ideas in such a short amount of time.
Drawing on the Design Thinking approach to innovation
​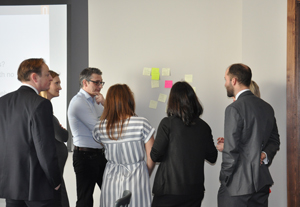 ​
My session drew on a range of design thinking techniques. Design thinking is a human-centred approach to collaboration and innovation used by some of the world's most innovative businesses including Google, IDEO, Microsoft and P&G.

Useful in relation to day to day activity as well as strategic step changes, it always starts with empathy for the ultimate user or client. Later phases include framing the challenge, brainstorming, lateral thinking, rapid prototyping, iterating and testing.

The future of the client relationship function
We know that businesses do not exist without clients. In markets where firms struggle to differentiate themselves good client relationship management, both client-facing and behind the scenes, is vital.

However, some firms are not making the most of the client relationship talent that they have in their business development teams, across their fee-earners and other employees.
For example, helping clients (and their clients and their intermediaries) to tackle wider commercial issues that firms don't have the answers to means taking off the expert hat and working side by side.

This collaboration and co-creation of value deepens understanding and bonds between people at the firm and client. Facilitating this sort of joint working of people with different perspectives has a place in good panel management too - multiple specialists working in close partnership rather in isolation.
Even the best client relationship programme, client listening system and client service initiative can't succeed in a vacuum.
They need the continuous support of a firm culture with all of its people, behaviours, values, infrastructure, systems and leadership sponsorship.

Clues about a truly client-centric culture are found in the day in day out reality of what is consistently celebrated, rewarded, taboo and penalised, how people and conflicts are managed and how ideas and differences are encouraged and supported.

It is telling how easily a distance can creep in between firm and client in even the most "client-centric" business. Significant competitive advantage awaits those who manage to keep clients upfront and central.

For some firms, this means elevating the client relationship function to the heart of the business where it can contribute more directly to strategy, leadership and culture.
Abigail Hunt is a business development and innovation consultant and an associate at Møller PSF Group at Cambridge University ( www.mollerpsfgcambridge.com )
​