​
We know that when it comes to your career, you have big ambitions. So it's important to find a company that is going to give you the training and learning opportunities you need it order to achieve them.
Developing careers is one of our strengths. At Ambition, we are highly committed to building better futures for our employees through continuous training and development. We have a number of exceptional people who initially joined us as trainees and who are now Managers, Directors and Principal Consultants. ​
Not only do we have some of the most experienced recruitment professionals in the business that you can learn from, we also have a dedicated Learning & Development specialist working in-house to ensure that all our employees received tailored training that best suits their needs.

of our management team achieved their position through internal training and promotion.
​
​
What training will I get?
As a trainee or Associate Consultant, you will engage in a structured training programme. At the same time, we'll put you in a team of highly experienced recruiters who you can learn from to give you a full overview of the market and the job of a recruiter.
Many of our current employees have progressed through the ranks from junior consultants with no prior recruitment experience into senior roles so you can be reassured that you'll be given all the support and training you need to become a true expert in your market.
Coming in as an experienced Recruitment Consultant, you'll be given the opportunity to brush up on your recruitment skills by engaging in a structured and tailored training programme to suit all abilities. You will also receive training on our markets to help you develop your knowledge quickly.
Ambition Training Academy
The Ambition Academy training program is a fantastic way to kickstart your recruitment career. Rather than throwing into the deep end, we'll provide you with intensive training as well practical on-desk experience to give you the very best chance of building a successful career in recruitment.
What's more? You won't have to go it alone - you'll be learning alongside a group of peers so you can support each other as you progress.
The Ambition Academy will provide you with the most up to date tools and training that has helped many recruitment professional succeed in their careers.

​
What's the training like for Managers?
​Management requires additional skills and knowledge beyond those of a top biller, so in addition to the training we give to experienced Recruitment Consultants, we also offer specific training programmes for our Managers, using external trainers.
​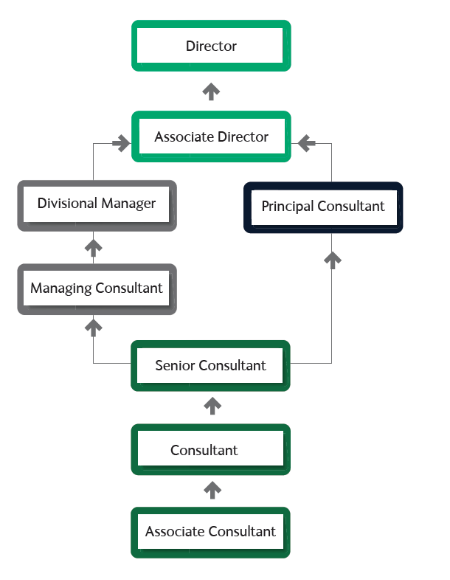 Your career, your choice.
Do you want to be a top biller or a people manager? We give our people a choice in how they want to progress.

1. The 'Sales' (Fee earning) path
By choosing this path you will work towards becoming a Principal Consultant, allowing you to concentrate on billing, whilst gaining recognition for being an exceptional, high achieving and specialist recruiter in your chosen market.
​
2. The 'People' (Management) path
This allows you to work towards becoming a Divisional Manager and caters for those who want to develop their people management skills and focus on building and leading high performing teams.
Regardless of which path is right for you, you'll find plenty of opportunities to rapidly accelerate your career at Ambition.
​
To find out more about the career paths our people have taken, read our Ambition Career Stories.
​