Back to Blogs
Last week Ambition took part in the Mental Health Awareness week, which focused on this year's theme of anxiety and how we can help to improve our mental health in the workplace.
The Mental Health Foundation reports that two-thirds of the population will experience a mental health problem in our lifetime, with stress being a key factor in this. Poor mental health of employees costs UK employers between £33 - £42 billion a year. Working in recruitment can be notoriously stressful at times, so we recognise the need to encourage open conversations about this issue amongst our employees so that we are able to ensure that everyone feels valued and supported.

To kickstart the conversation, Julie Green, our Head of People at Ambition set up an interactive 'Mental Health Awareness week' discussion and encouraged employees to take extra care of there mental health and gave tips on dealing with it.
We also encouraged employees to share what they do when they feel stressed. Some of the ideas put forward included:
Have lunch in the park

Have a wander in the sun

Catch up with friends who work nearby

Read a book

Take a nap

Listen to a podcast
At Ambition we partner with Health Assured who are committed to improving the workplace as they offer three main lines of support:
Employee assistance programme

Trauma Management

Wellbeing support
Julia Green - Head of People at Ambition took us through Figure 1: The Yerkes-Dodson Human Performance and Stress Curve (Human Performance Curve)
​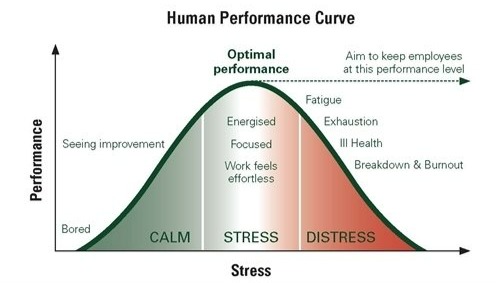 Julia explained that the Yerkes-Dodson law is a model of the relationship between stress and task performance. It suggests that if you reach your peak level of performance with an intermediate level of stress, or arousal. Too little or too much arousal results in poorer performance.

We all experience stress differently, so the optimal level of stress for you won't be the same as it is for someone else. Many factors are at play, including:
Skill level

Personality

Confidence

Task complexity
Take a look below to see photos from the Mental Health Awareness week.
| | |
| --- | --- |
| ​ | ​ |
​