​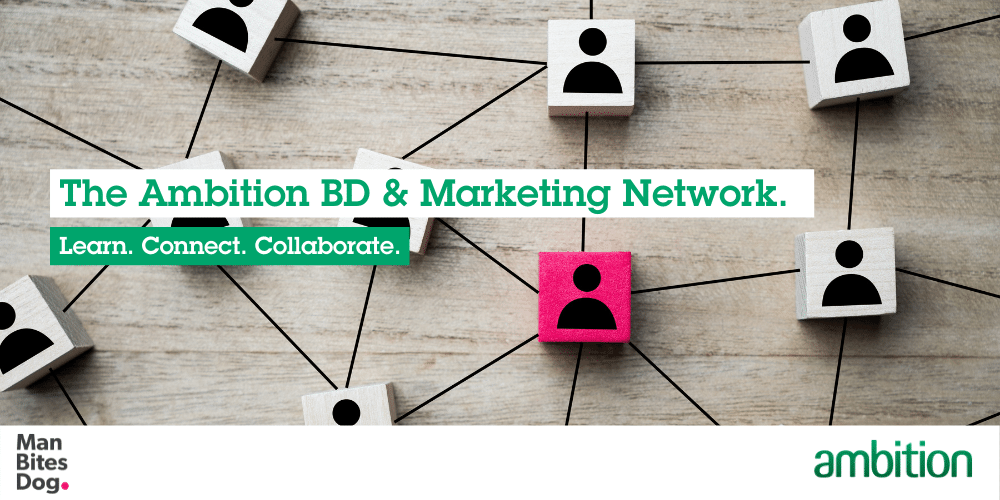 ​
The Ambition BD & Marketing Network
The Ambition BD and Marketing Network has been set up to provide Professional Services Marketing, BD and Communications professionals a safe space to come and learn, connect and collaborate with other Senior BD and Marketing professionals.
The network is completely free to join for any BD and Marketing professional working in a professional services firm,
As a member, you will be added to our mailing list where you will gain access to all previous webinars and will receive invitations to future exclusive webinars and round table discussions with other professional services marketers.

Our first webinars of the series will be hosted in collaboration with Claire Mason and the team at Man Bites Dog.
Previous webinars include:
- Man Bites Dog on Future Thinking: How to use Thought Leadership to Enhance Your Strategic Agenda
- Man Bites Dog on Sustainable Thinking: What The Climate Agenda Means for Professional Services Marketing and BD
- Man Bites Dog on Inclusive Thinking: The Role of Marketers in Increasing the Representation of Diversity in Professional Services

To sign up to The Ambition BD and Marketing Network, simply fill in the form below:
​
​
​
​
​