Marketing & BD in Professional Services:
Market Trends Report & Salary Guide Q4 2020
Ambition's latest Market Trends report shares the key recruitment trends affecting Marketing & Business Development teams
in Accountancy Practices and Consultancies across the UK.

The results were compiled from a survey of hiring managers and Marketing & BD professionals in Q4 2020, as well as our internal data.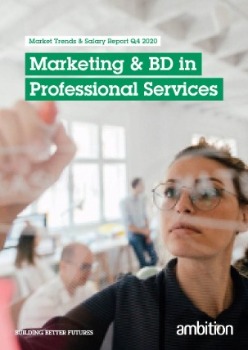 Download your free copy of the report today to discover:
The specialist skillsets in highest demand

Traditionally, the bulk of our recruitment within professional services has been within more generalist, core marketing mix roles. However, since March 2020, when the UK entered its first national lockdown, those with more specialist skill sets have been in highest demand.



The impact of remote working on productivity
Remote working was non-existent for most Practices and Consultancies pre=pandemic. Find out what firms' attitudes are now towards remote working.



The impact of Covid-19 on recruitment
Workloads at many practices and consultancies have, in certain disciplines, increased in recent months. The knock-on effect this has had on most of the supporting business services functions has been interesting to observe.



Salary guides
Benchmark your own salary and discover the typical salary bandings for Marketing & Business Development roles within Practices and Consultancies.
Download your complimentary copy by completing the form.