The key recruitment trends in Legal Marketing & BD in 2021​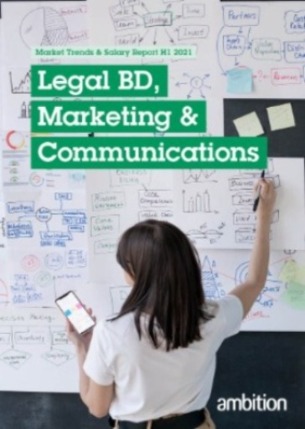 Our latest market trends & salaries report has been compiled from the results of a comprehensive survey of legal BD & Marketing leaders and employees.
It offers an overview of the key trends within legal marketing & BD over the past 6 months, as well as some insights into what 2021 has in store.
"The outbreak of the pandemic presented us with the most challenging market we have ever seen for legal marketing recruitment last year.
However, there has been a clear distinction between conditions in March-July 2020 and where we currently find ourselves at the beginning of 2021."
Request the full report to discover:
The specialist skillsets in highest demand

The impact of Covid-19 on the legal sector

Remote working post-lockdown

Key trends for jobseekers

Up to date salary information for roles within legal BD, Marketing & Communications
Request your free copy of the market trends report by completing the form below:
​
​A member of our team will contact you shortly with a copy of the report.

Alternatively, you can email your request to BDMrequest@ambition.co.uk​​